The nature reserve dream of a 'gringo imperialist'
North Face millionaire environmentalist fights to set up vast wetlands park in Argentina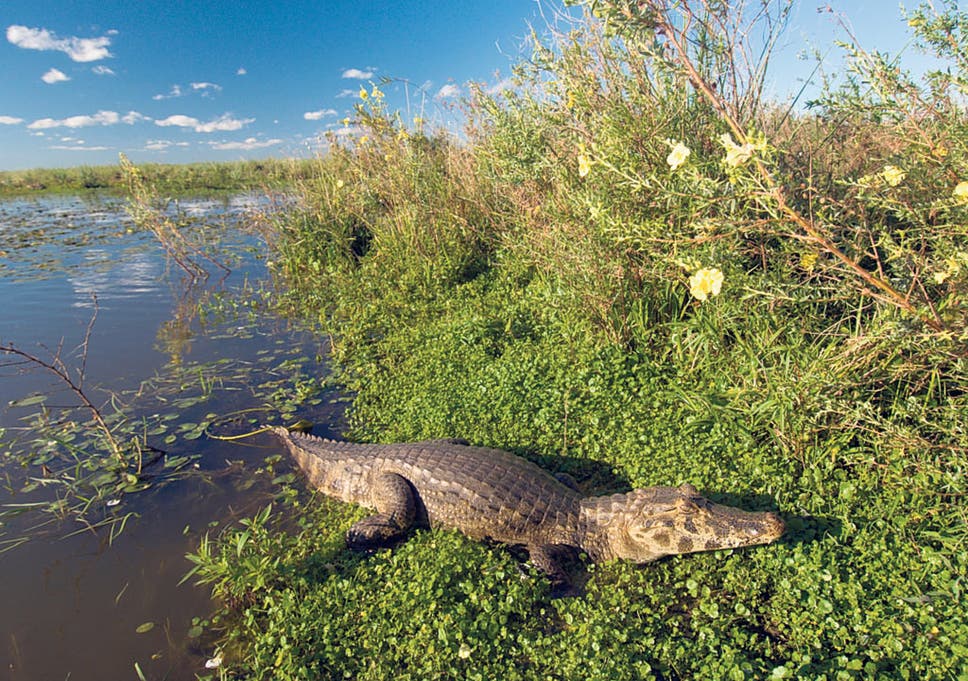 Douglas Tompkins, the US environmentalist and co-founder of the North Face outdoor clothing brand, has been nothing if not persistent in pursuit of his dream of creating a vast nature reserve in the province of Corrientes, in Argentina's sub-tropical far north.
Just three years ago Mr Tompkins had to put up with the country's land minister, Luis Delía, calling him a "gringo imperialist" and promising to expropriate the huge land holdings that the government claimed were a threat to national sovereignty. Mr Delía even posed for photographers with pliers in hand as he cut through the wire fencing protecting one of Mr Tompkins' properties.
But the nationalistic rhetoric has died down since the death of populist president Néstor Kirchner, and there has even been a rapprochement with his widow, the present Argentine President Cristina Kirchner. This week, the American announced plans to donate 370,000 acres of his land, valued at £120m, to the nation to help create a major new natural park.
Yet the deal now has to overcome one final obstacle, the strident opposition of Corrientes governor Ricardo Colombi, who claims it would put local farmers out of business. The governor has even accused Mr Tompkins of wanting to appropriate the region's freshwater supply and has warned darkly of "false environmentalists backed by a foreigner".
Iberá is already designated as a 3.2 million-acre provincial nature reserve, although that has afforded it only limited protection. Nearly half that area is privately owned and divided into farms. Mr Tompkins plan is to donate four ranches he bought and turned into private nature reserves while also encouraging Mr Colombi's administration to hand over the 1.36 million acres it owns to the national government as well. That would then place heavy pressure on the 1,800 farmers who own the remaining 1.2 million acres to end all agriculture and livestock rearing inside the boundaries of the new park.
The Conservation Land Trust (CLT), Mr Tompkins' nonprofit green group, and Ms Kirchner's administration are now waiting until Mr Colombi's term ends in 2013 to see if his successor is more supportive. "It is a political issue, between the national and regional governments. It is not our responsibility," CLT spokeswoman Marian Labourt told The Independent.
Mr Tomkins, now 68, launched his outdoor clothing and equipment company, North Face, in 1964. He then founded women's fashion label Esprit, and oversaw both companies as they grew into global empires. Yet disillusioned with the US's consumerist culture and keen to get back to his roots as an outdoorsman, Mr Tompkins quit North Face in 1989. After selling his shares in both companies, he used the profits on environmental work, including buying land in Chilean Patagonia and the Argentine north.
Mr Tompkins's environmental radicalism has run into serious hostility in both countries. El Litoral, Corrientes's regional newspaper, once wrote of Mr Tompkins's "tentacles" wrapping round Iberá.
But the environmentalist overcame objections in Chile in the 1990s when his land donations helped establish the Pumalín and Corcovado National Parks, preventing loggers from plundering two ancient forests. Now, despite the objections of Mr Colombi and local farmers, the long money may well be on Mr Tompkins to realise his dream in Corrientes.
Esteros del Iberá: A wetland wonder
The Esteros del Iberá, or Iberá Marsh, is thought to be the second- largest freshwater wetland system in the world. A network of rivers, streams, bogs and savannah, Iberá is home to more than 4,000 different species including jaguars, maned wolves, the threatened pampas deer, anacondas, howler monkeys and the endangered jabiru, South America's largest stork. If the area is designated a national park, the Conservation Land Trust would reintroduce several species that have been wiped out in the area.
Source: https://www.independent.co.uk/environment/nature/the-nature-reserve-dream-of-a-gringo-imperialist-6263987.html